Parking lots at supermarkets, parks and police stations have been used quietly for years to make child custody transfers between separated or divorced parents. Sometimes these exchanges unfortunately erupt into verbal or physical incidents.
These parent–child meetings have not been the only risky exchanges seen by police. Along with the rise in local internet-based sales and services through online platforms like Craigslist, there was a spike in murders, robberies and thefts over the past decade. Unsuspecting sellers would meet a supposed buyer only to become a crime victim.
By 2009, the media had dubbed several criminals as "Craigslist Killers." To date, well over 100 "Craigslist murders" have been tracked by the media across the U.S. Craigslist has not been the only platform where buyers have been stalked, assaulted or robbed. Facebook groups, eBay and online classified ads have offered a fertile field of potential victims. Literally thousands of robberies and assaults have involved parking lot transactions. Many domestic incidents involving custody of kids have ended with law enforcement responding to the incident.
One of the first Craigslist murderers was Philip Markoff, an American medical student who was charged in 2010 for three armed robberies and a murder. Markoff met his victims through Craigslist. (He committed suicide while in custody awaiting trial in Boston.) Many others have followed since.
Over the summer of 2014, the Boca Raton, Florida, police experienced a handful of robberies where the victim had made arrangements to meet someone to see either an iPhone or a computer. Although meetings occurred in public places, they still got robbed. That same year, the police department said its lobby and parking lot were considered safe exchange zones, and officials encouraged everyone to do transactions there instead of in another public place.
Although the number of Craigslist and other online transactions conducted safely is in the millions, the meetups that go wrong have attracted plenty of attention. The motivation of safe exchange zones was that a predator would be less likely to commit a violent crime in a police station parking lot.
The safe zone concept spread through central Florida and then through the law enforcement grapevine to police parking lots and lobbies throughout the country. That informal process morphed over time to create designated, advertised and monitored safe exchange zones. These zones were clearly marked in the parking lot of a well-lit police or sheriff's station, or even in the lobby of a law enforcement agency, for people to meet and sell their goods with less fear of a quick or violent rip-off, or for separated or divorced parents to safely exchange children.
Since 2015, three websites have been created: SafeTrade Stations (safetradestations.com), SafeExchangePoint (safeexchangepoint.com) and SafeTradeSpots (safetradespots.com). These sites have allowed law enforcement agencies to freely post the location of their safe exchange zone so that the public could seek these locations out. None of the services charges a fee and each provide safety information as well as resources for agencies to use.
SafeTrade Stations lists 457 locations and SafeExchangePoint supports 398 locations, with over 98% being police agencies (some law enforcement locations are listed on both sites). Canada has 20 exchange zones listed on these same sites. The top five states listed on these sites are California, Florida, Pennsylvania, Texas and New Jersey, though every state has at least one or more safe exchange zones.
In 2017, the Nevada State Legislature required one sheriff's station or police station in each of the state's 17 counties to have an e-commerce exchange zone where people can go and feel comfortable and safe making their exchange. This made Nevada the first state in the nation to require communities to establish safe trade zones.
SafeTrade Stations was developed as a public service by the Advanced Interactive Media Group (AIM), LLC, a Florida-based consulting and publishing company that publishes AIM Group Marketplaces Report (formerly the Classified Intelligence Report). The AIM Group works with hundreds of classified advertising companies around the world and is making SafeTrade Stations available to them as well, clients or not. The AIM Group reports they are not receiving any money or other compensation for SafeTrade Stations.
SafeTradeSpots is supported by OfferUp, a mobile marketplace for local buying and selling. Limited information on its platform allows only for a local search of participating agencies.
Safe exchange zone operation
A safe exchange zone is a relatively simple public engagement program that any law enforcement agency can set up. What's needed are at least two designated and signed parking stalls at the police or sheriff's office, bright night lighting and CCTV video monitoring of the parking stalls. The operating guidelines usually are on a first-come, first-served basis. Some agencies offer a variation of this concept; some have designated their lobbies as a swap spot area where residents can conduct internet sales or child visitation exchanges.
Officers typically do not get involved or actively monitor the transaction, although many police parking lots and lobbies have surveillance cameras as an added backup. In some smaller departments, an officer might go outside and meet the buyer/seller or parents just to make public contact and reassure them that they are in a safe environment.
Safe exchange programs have proven to be a much safer way for individuals to conduct a transaction rather than giving a stranger their home address or meeting them at a gas station and risking becoming a victim.
Some police departments have additional rules, such as specific hours of availability, "no guns," "no drugs," etc. Though restricting guns in constitutional carry states, even in a police parking lot, may be impossible.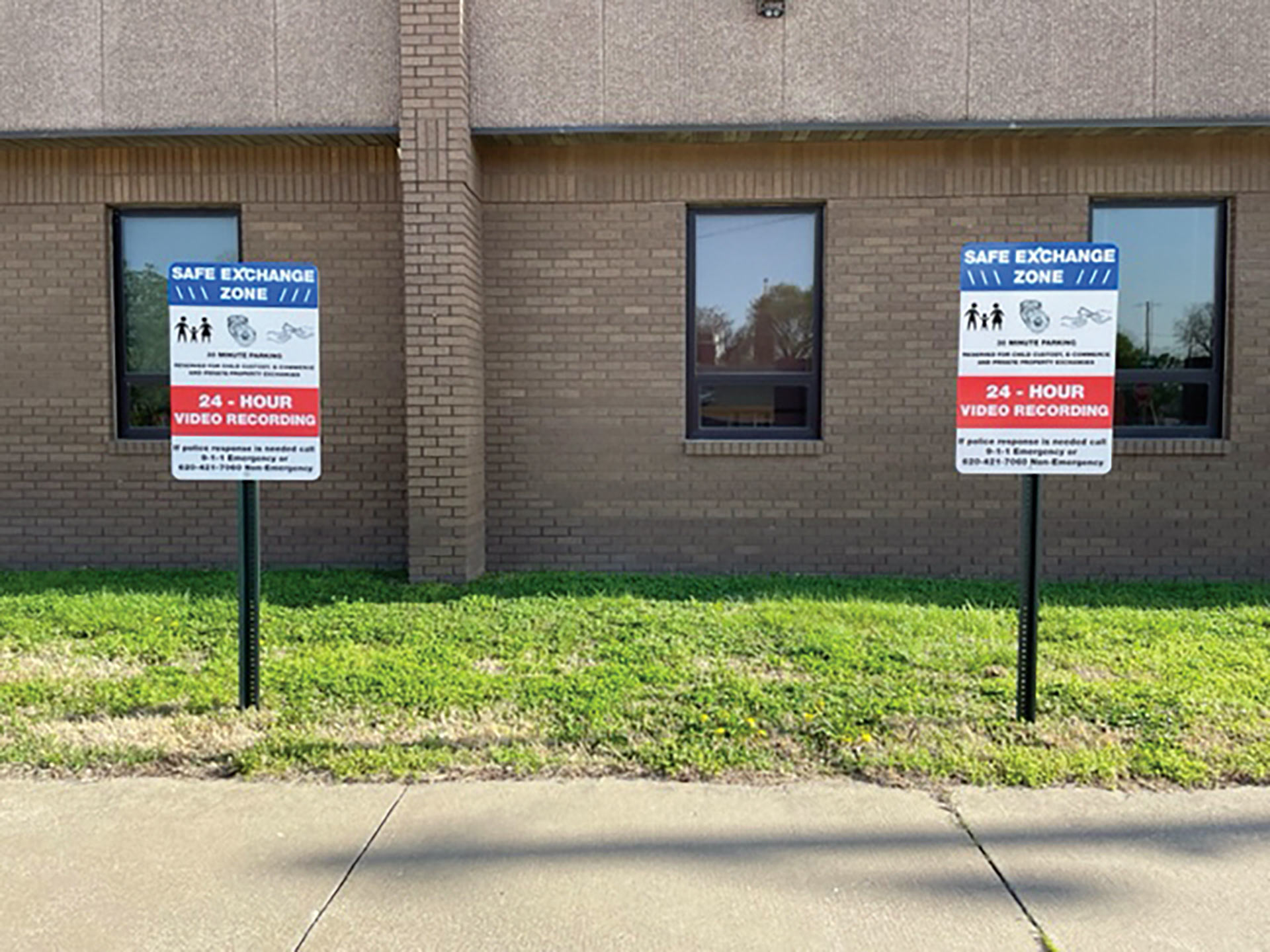 Safety recommendations for citizens
Agree to meet the buyer/seller or parent only at a police station, sheriff's office or similar law enforcement facility.
Meet only during daylight hours unless the police department has offered a well-lit and CCTV-monitored parking area or inside facilities 24 hours a day.
Meet inside the sheriff or police department if possible. Some agencies require an appointment; others make their lobby or similar open-to-the-public area available.
If you cannot meet inside the lobby, meet in the parking lot. Typically, they have cameras, and there are police officers coming and going. It is not as safe as indoors, but it is much safer than the proverbial "meet in a public place."
Ask for proof of the seller's identity in case the item is something that might have been stolen. Many police departments (but not all) are willing to check the serial number of an item for sale to determine if it is in a database of stolen property.
If you are carrying a large sum of cash, either before or after the transaction, do not make it obvious and be careful that you are not followed after the transaction.
Beware of common scams, like checks for an amount higher than the amount of the deal or "cashier's checks" that are forged and presented when the bank is closed. If you are given a cashier's check, money order or other equivalent, call the bank — at the number listed online, not a number the buyer gives you — to verify the validity of the check.
For additional resources and information on safe exchange zones, please visit safetradestations.com, safeexchangepoint.com or safetradespots.com.
As seen in the June 2022 issue of American Police Beat magazine.
Don't miss out on another issue today! Click below: