On September 11, 2001, the Port Authority of New York and New Jersey Police Department (PAPD) suffered the greatest number of line-of-duty deaths in a single incident in the history of American law enforcement: 37 Port Authority police officers were killed at the World Trade Center.
That statement is not meant to diminish the deaths of 23 New York City police officers or the unimaginable number of 343 New York City firefighters who were also killed that day. No, it is a simple, horrible fact, an unwanted distinction.
The PAPD — the nation's largest transportation-related police department — and the Port Authority — one of America's most important public agencies and economic engines — were devastated. Losses included key PAPD and Port Authority leadership personnel. The PAPD needed immediate rebuilding, a resurrection that fell upon the shoulders of a career Port Authority cop named Joseph Morris.
Morris, who served with the PAPD for more than 31 years, was a police inspector the day the Twin Towers came down. He held every rank and served in many key positions in the Criminal Investigations Bureau, Internal Affairs, Headquarters and Facility Police Commands. He also served as a Western Zone commander, the zone that included the World Trade Center Command. Morris' intimate knowledge of the department and astute understanding of the agency's civilian operations allowed him to tap into valuable Port Authority resources to address his four highest priorities: heightening law enforcement and security operations at all Port Authority transportation facilities, the World Trade Center recovery effort and rebuilding the PAPD as well as the well-being of his police officers. The job facing Morris was daunting, but he credits the agency's disaster planning as one valuable resource he locked onto. "Never underestimate the planning," he cautioned.
Since the first shovel of dirt was removed from the earth to build the original World Trade Center, the PAPD WTC Command has been the law enforcement authority at the complex. In the beginning, the WTC Command used construction trailers as its station house before moving into a permanent station. During the February 26, 1993, bombing of the WTC, that station house was destroyed by the blast. Port Authority cops, wounded and dazed, heroically evacuated thousands from the Towers. A temporary police station was constructed while a new station house was being built. That police station was, again, destroyed in the September 11, 2001, attack. The WTC Command has since occupied a series of interim stations and is now located in a two-story temporary structure with plans for a new station house under review. Our nation's enemies must keep asking themselves why the PAPD keeps coming back. The answer from the PAPD is quite simple: "We are not leaving!"
Terror was not new to the PAPD. On December 29, 1975, a bomb exploded in a LaGuardia Airport terminal, killing 11 people and injuring 74 more. In May 1981, a bomb explosion rocked the Pan Am terminal at JFK Airport, resulting in one death. A second unexploded device was found elsewhere in the terminal. Again in 1981, on September 26, an anti-apartheid protest at JFK's British Airways terminal became violent when a protester threw acid into the eyes of a Port Authority cop, permanently blinding him. On February 26, 1993, a truck filled with explosives was ignited in the public garage beneath the massive World Trade Center complex, causing six fatalities, the death of an unborn child and more than 1,000 injuries. In addition, many terror plots targeting Port Authority facilities, such as plots to blow up fuel lines and tanks at JFK International Airport and plans to place explosives in the PATH Rail System tunnels beneath the Hudson River, have been uncovered and disrupted. Morris was on the job during all these events. Every Port Authority police officer knows when he or she breaks roll call, a target is on their backs. Not a pleasant way to begin one's day, but a reality.
As much as September 11 was shocking, it wasn't a wake-up call for the PAPD; it was more akin to a knockout punch in a long, hard-fought fight against terror. It is fair to say the PAPD got its ass kicked that day by an enemy whose planning and execution were near perfect. The members of the PAPD are eternally grateful to the young men and women who went to war, many never to return, who more than evened the score.
Morris' past experiences, particularly the 1993 bombing of the World Trade Center, prepared him for leadership. He recalled the words of then-Chief James Nachstein (with whom he responded to the Trade Center), who, in 1993, described his and PAPD's leadership responsibility as follows: "We were involved in a tidal wave, it was our job not to drown but to bring order to the chaos." Major operations, such as Op Sail 2000 and Y2K, also helped prepare Morris for what was ahead. "During those times I was able to observe and learn how the top-level thinks," he says.
The 1993 bombing, though, was different. Morris turned to his driver as they were on the Williamsburg Bridge with a view of the burning Towers and said, "This is not like '93, the buildings are not our friends, now they are our enemies." Morris' prophetic words paid homage to the strength of the Twin Towers during the 1993 bombing, a strength now sapped by extensive trauma and jet fuel-fed infernos.
While on scene that terrible day, Morris was instrumental in creating command and control for a department torn apart and decimated. Fred Morrone, the PAPD superintendent, perished after entering the towers to rescue people. Chief of Police Operations James Romito was killed after he climbed to the upper floors to help those trapped. Port Authority civilian leadership quickly was made aware of the importance of PAPD command continuity to lead the herculean effort ahead at the World Trade Center and PAPD commands. On September 26, 2001, Morris, who spent the previous 25 days trying to bring order to the chaos of the World Trade Center site, was elevated to the position of chief of department. He knew what faced him and embraced it, not only for the department he loved, but for those who lost their lives and the families they left behind.
Late in the evening of September 11, Morris gathered all available PAPD personnel at the WTC site to the department's temporary incident command post set up in a gymnasium at Manhattan Community College. He faced a few hundred police officers still in shock, with their uniforms and faces covered in World Trade Center ash. Some had difficulty seeing due to eye injuries suffered in the collapses; others were covered with bruises, burned skin and lacerations. He told most of the officers something they did not want to hear: He ordered all but Emergency Service Unit officers to return to their commands. He said he wanted them to get some sleep because after that night they wouldn't be getting much at all. Morris knew what was coming, and it wasn't pretty.
On the top of his list was staffing at the WTC site and all Port Authority facilities. He needed trusted, aggressive personnel in key positions, and the department needed more officers quickly. He put in place a command structure of experienced Port Authority Police professionals. He said, "I let them know where we needed to go," and, in a nod to their success, added, "They got me there." At the same time, he directed the department to create a plan to expedite recruit hiring. The PAPD numbered approximately 1,300 sworn personnel on September 11, 2001. Today, the department totals around 2,300 police officers. Key to the plan was identifying current law enforcement officers on the 7,000-name hiring list still in effect. Seven hundred LEOs' names were processed, with several hundred being appointed to expedited academy classes. Concurrently, the Port Authority Police Academy, which was relocated to a local university, conducted six-month non-LEO classes. One of his key appointments was a new Port Authority Police Academy commanding officer in the wake of the death of Captain Kathy Mazza.
On the day of the attack, Mazza responded from the police academy located across the Hudson River in Jersey City, New Jersey, and led a squad of police officer academy instructors in evacuating the Towers. The final moments of Mazza's life were moments of selfless heroism, according to eyewitnesses. Mazza and her officers were in the lobby of the remaining Tower helping a woman in a rescue chair. Mazza was aware the Tower was about to collapse and ordered her cops out to save themselves. She stayed with the woman, knowing her life was about to end, and in a final act of selflessness, drew her service weapon and began to shoot out the huge lobby windows to create additional escape routes so others might live. Mazza's body was recovered with the woman she desperately tried to save.
As new recruits graduated, they entered a department where every officer was working a minimum of 12 hours per day, every day. Some referred to it as "a baptism by fire," and one senior officer called the 18 months of 12-hour tours "The Bataan Death March." Another officer provided probably the most accurate description of the beating the PAPD and its officers took on September 11 and through the year and a half that followed: "They all died and went to heaven, we lived and went to hell."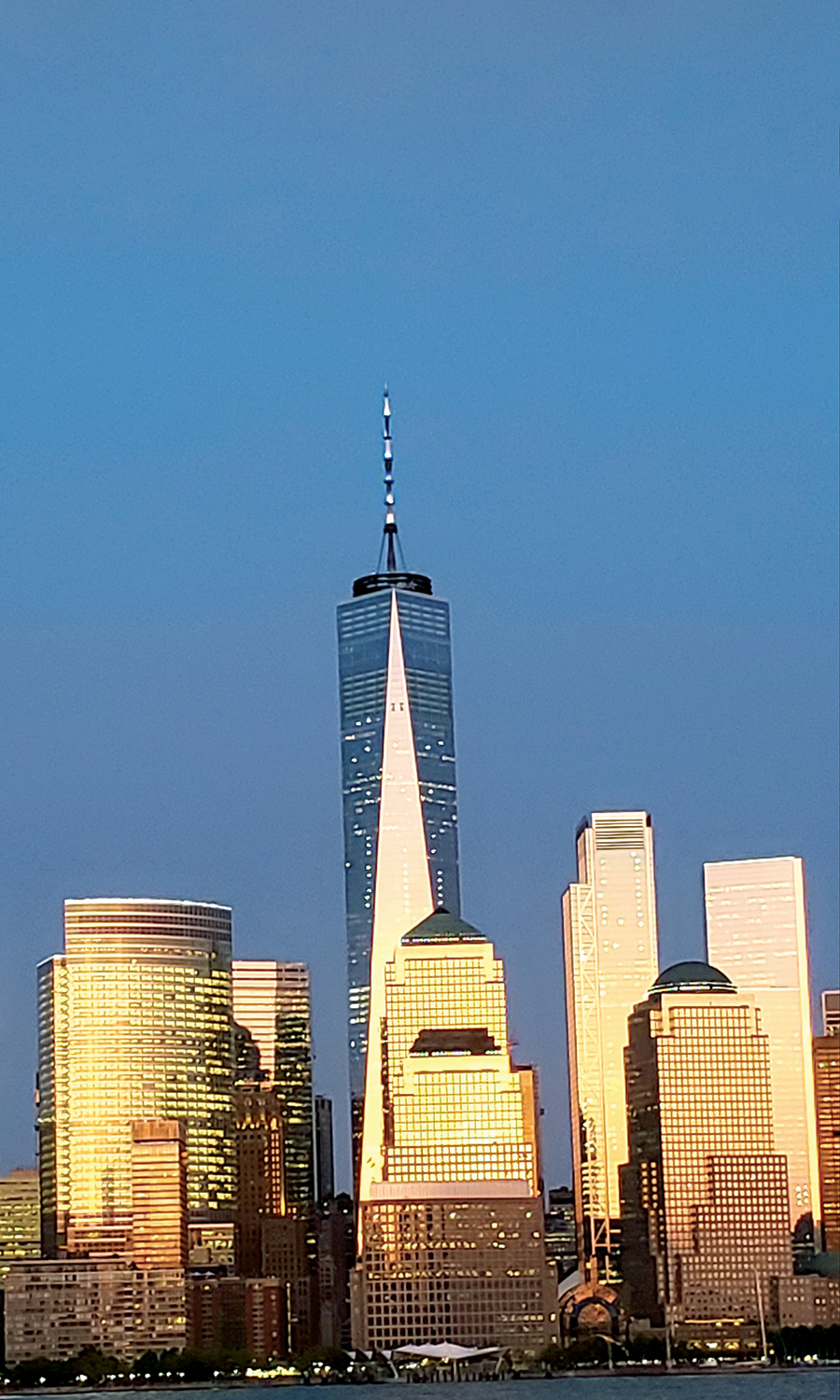 Morris made sure all possible resources needed for the PAPD to continue to operate at the highest threat level were provided. He was also aware of the emotional and psychological strain on his officers. Morris put in place a program where counselors and organizations, such as Cop2Cop, were available at each command to help officers who were trying to balance their extraordinary workloads with their diminished family time. These efforts played a critical role in assisting officers to cope with the unprecedented loss of their fellow officers and the damage to their department. Morris also brought in the agency's Risk Management Department to assess work conditions at the WTC Recovery Operation and institute safety measures, such as using personal protection gear, including high-level respiration masks. Both of these efforts are credited with abating, to some extent, the personal and mental health issues anticipated by the forward-thinking Morris.
At the WTC, the solemn work of recovering the dead continued. Though every PAPD officer wanted to be part of the recovery effort, a decision was made to create a core cadre of police officers to remain at the site for the duration of the recovery. Among the cops, this was not popular; they wanted to find their friends. One officer wrote a powerful recollection of her time on "the Pile," which is what the WTC site was referred to during the recovery. She wrote, "The smell was so identifiable and personal. It also had colors. I looked the Pile over in the morning and always noticed the changing colors. There was pink, yellow, gray and black. The work of digging and climbing around always felt as an odd honor. It was as if my friends were calling me. I needed to answer them. Sometimes I could hear them calling me, 'I am over here — I am here.' Sometimes I would cry behind my mask. I would ask them, 'Where are you, tell me, where are you?!' I pulled out an arm bone and walked her to the Medical Examiner's tent as if I were holding her hand."
Morris chose a group of strong-minded lieutenants who he knew could handle the difficulties on the Pile, such as the tension and pushbacks that occur in multiple agency operations. As he did with the field commanders, he delegated authority to the lieutenants, knowing they would develop a path for the recovery operation to get the site where it needed to go. One of those lieutenants was now-Detective Lieutenant John Ryan, who is currently the department's Joint Terrorism Task Force commander. His life, like every Port Authority cop's life, is still consumed by 9/11. He referred to that, saying, "Port Authority cops are still waiting for September 12."
The work at the World Trade Center was difficult, physically depleting and mentally diminishing; it took a toll on all who worked around the clock to recover the dead. Key to the recovery operation was the work of the PAPD Chaplains Corp. Morris said three chaplains — Father Dave Baratelli and Rabbis Jack Meyer and Isaac Heschel — worked every day on the Pile, helping with the recovery and ministering to police officers. Spiritual guidance during the PAPD's darkest period can never be overstated; it was welcomed and embraced.
In order to put his plans in place, Morris needed the help of the police union, the Port Authority Police Benevolent Association (PAPBA) and its then-president, Gus Danese. Morris had a very good relationship with Danese and, because they had immense respect for each other, turned to Danese for assistance with stabilizing the department. The PAPBA was another valuable resource Morris needed to rebuild the department. He said the PAPBA was a great help leading the PAPD in its new direction.
Morris retired on January 10, 2004. During his time as chief of department, he became a master chess player, successfully countering every adverse move on his path to rebuilding a police department like no other. No police department does what the PAPD does, and Morris knew that needed to be preserved.
He buried 37 cops through his tears, he resurrected a near-fatally wounded police department with his sheer determination and he led with his unabashed love for those lost and their families, his police officers and the PAPD. He leaves a legacy of a great leader.
As seen in the September 2019 issue of American Police Beat magazine.
Don't miss out on another issue today! Click below: