Last year, a lot of people discovered they had a lot more time on their hands, freeing them up to try new hobbies — hence the endless memes about sourdough starters. Scott Rose admits he's no baker, but he did take the opportunity to search for a meaningful project, even though he was kept busy as the sheriff of Dodge County in southeast Minnesota. Rose decided it was as good a time as any to blend his previous life as a radio broadcaster with his current life in law enforcement by launching the Officer Down Memorial Podcast.
After high school, Rose attended the Ron Bailie School of Broadcast in Arizona, which led to radio jobs in Kansas, Nebraska and Minnesota.
"When I told my dad I was going into broadcasting, he said, 'I think that is a career choice for you. You have the perfect face for radio.' Thanks, Dad," Rose remembers.
Years later, and back in his hometown, Rose found himself drawn to law enforcement, like his father, who was a full-time teacher and part-time cop.
"When I told my dad I was going to make a career change, he said, 'Son, I thought you would be the last Rose boy who would be a cop,' because I was always in trouble," Rose says. "I told my dad there was more leg room in the front seat of a squad car than the back, and they let me drive now."
Rose's law enforcement career has spanned various stages, from volunteering for the sheriff's office mounted posse to part-time patrol to full-time deputy assigned to various units before he was elected sheriff in 2014, a position he's held since.
In addition to his professional responsibilities, Rose is committed to honoring law enforcement professionals who have died in the line of duty. He currently serves on the boards of directors for the Minnesota Law Enforcement Memorial Association (MN LEMA) and the Law Enforcement Memorial Foundation of Southeast Minnesota. But he always felt more could be done to preserve these heroes' memories. After brainstorming with friends familiar with the world of law enforcement, Rose decided to make a foray into the popular platform of podcasts, despite never even having listened to one.
In this APB exclusive interview, Rose shares how the podcast evolved and the impact it's made on surviving families, the cops who investigated these cases and his leadership as a sheriff.
How did you get involved with fallen officer memorials?
A colleague, Captain Loring Guenther, who was third in command, felt he was always at odds with the administration and he had to stand up for patrol. We, the rank and file, believed he would be the next sheriff. Then in 2013, Loring had a massive heart attack and died; he was 43 years old.
No one knew what to do to honor him because we hadn't lost a fellow cop. All I could think of was to call Olmsted County Sheriff Kevin Torgerson because I knew he had been with MN LEMA. They were amazing people. They helped put together an amazing service and celebration of Loring's life, service and sacrifice. I thought, I want to be involved in this group and be around these kinds of people. Since then, I have worked on a number of different projects for both associations and had the opportunity to serve at several funerals, meeting many survivor families.
Why a podcast?
I have a studio at home because I've done professional voiceover work on the side for years. During COVID, I was brainstorming different ways of how to better tell stories of fallen heroes. Most states have memorial websites. Some have pictures, some don't; some have a short biography and summary of what happened. I thought there has to be a better way to share their stories in their entirety so they're never forgotten.
Initially, I thought I would tell the stories of the 32 fallen officers in southeast Minnesota. I put together my first podcast on the first line-of-duty death in the region, at least the first one registered. Officer Mathew Hamilton died December 3, 1874. That was a fun story for me to put together. There were no police reports. I did a lot of research with the local historical society, newspapers at the library and Ancestry.com. I wanted to create a point of interest for the era. With each podcast, I set the time for how the community was then. I let you know the officer and recreate how we lost that officer. You end up feeling what their family felt.
Whether it's a traumatic shooting, like Robert Lawson, or an officer who died of a heart attack or was killed directing traffic, the end result to the surviving family is the same. It's just as important to share their stories, maybe more so because the story didn't get a lot of attention. Yet that officer still had a huge impact on the agency, and that gets forgotten.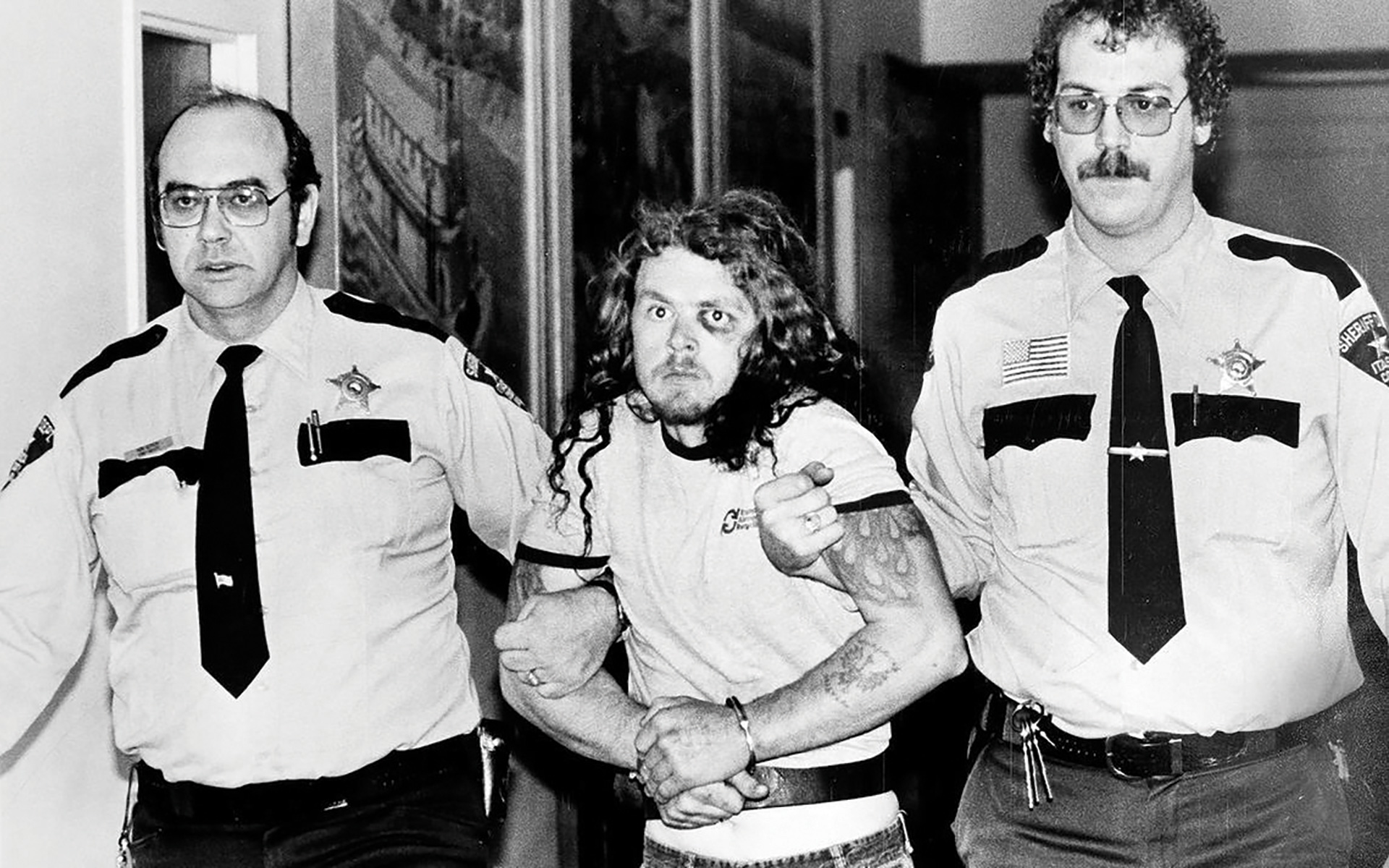 One of your early podcasts influenced a recent parole hearing. Was that why you chose it?
There are parole hearings every year for people who killed cops. I found out the killer of Robert Lawson, a deputy in Itasca County in northern Minnesota who was executed in 1981, was going to have a parole hearing on January 12. I knew the sheriff up there, so I reached out to him. I suggested we could use the podcast to educate the community about what happened to Deputy Lawson. In that podcast, I not only focused on what an amazing man he was, but I also focused on the killer, Audie Fox, and why he should remain in prison.
I did the public data request to the agency for everything: reports, audio, calls, dispatch radio, interviews and pictures. I wanted everything the agency had. I read every report to determine which officers were involved and which are still alive. For many of the older cases, the cops from the scene have passed away. Then I connect with the officer's family. That helps me tell the story of the officer and what happened, and it's a powerful story.
The sheriff's office used the podcast to help educate the community about the homicide, and it helped generate somewhere between 400 and 500 letters to the Minnesota Department of Corrections in support of the family and calling to keep the killer behind bars. The end result was that Fox was given another 10 years added to his life sentence (typically the longest extension of a life sentence in Minnesota). For us, that was a huge success.
Is this something you hope to do with future episodes?
Once we reached out for the Lawson parole hearing, I saw that this is another way to help families. Parole hearings revictimize families. Over and over again, they are going back trying to fight to keep the guy who murdered their loved one in prison.
How have surviving families reacted to your podcast?
I was initially worried about revictimizing these families because the podcasts get graphic in their accuracy. But it's been quite the opposite. Almost every family I have worked with says they have learned something about their fallen officer they never heard before. I had a grandson reach out to say the family is talking about grandpa now. Before the podcast, it had become taboo. That term has come up with several families.
When their loved one gets murdered, they've got everyone from the agency at the funeral, bringing food and checking to see if they're OK. At some point, all that stops and it gets quiet. One of the survivors' spouses told me that the silence revictimized her over and over again. She didn't want people to stop talking about him. She was always afraid his story would be forgotten. That's powerful.
How do the officers involved in these cases react to your requests?
One of the most fun things for me in this project is to talk to officers who worked in the '70s, '80s and '90s. They are so proud of the work they did. I've heard from them that it's been cathartic, therapeutic. When officers share their stories of a fellow officer murdered 20 to 30 years ago, they still break down. Law enforcement is a family. When you lose a family member, it affects you forever.
Has doing the podcast changed your perspective as sheriff?
Working with officers and families, for me, shows how important it is that our officers are OK. This career puts undue stress on everybody. Some calls are going to bother you, like child assaults. They affect everybody differently, but they affect everyone.
We have to make sure our cops are healthy mentally, and that they know it's OK to not be OK, and it's OK to talk to someone. You're stronger talking to someone than being silent. For me, in making sure our people are OK, I know they will perform in a way that our community expects from us. This project has made this so clear to me.
Do you accept requests from other cops or agencies to share stories of their fallen brothers and sisters?
Absolutely! I'd love to talk to them. We are working on podcasts for fallen heroes in other states, with projects in the works with Nebraska and Wisconsin agencies. I am also very interested in helping more agencies and families who have cop-killer parole hearings coming up. People can go to the website to send a message.
---
To listen or subscribe to the Officer Down Memorial Podcast, go to officerdownmemorialpodcast.com. It's also available under the True Crime category on all major podcast apps, including Apple Podcasts, Spotify, iHeart Radio, Amazon Prime Music, Stitcher and others. Get updates and follow the project on Facebook, Twitter, Instagram and LinkedIn.
As seen in the May 2021 issue of American Police Beat magazine.
Don't miss out on another issue today! Click below: