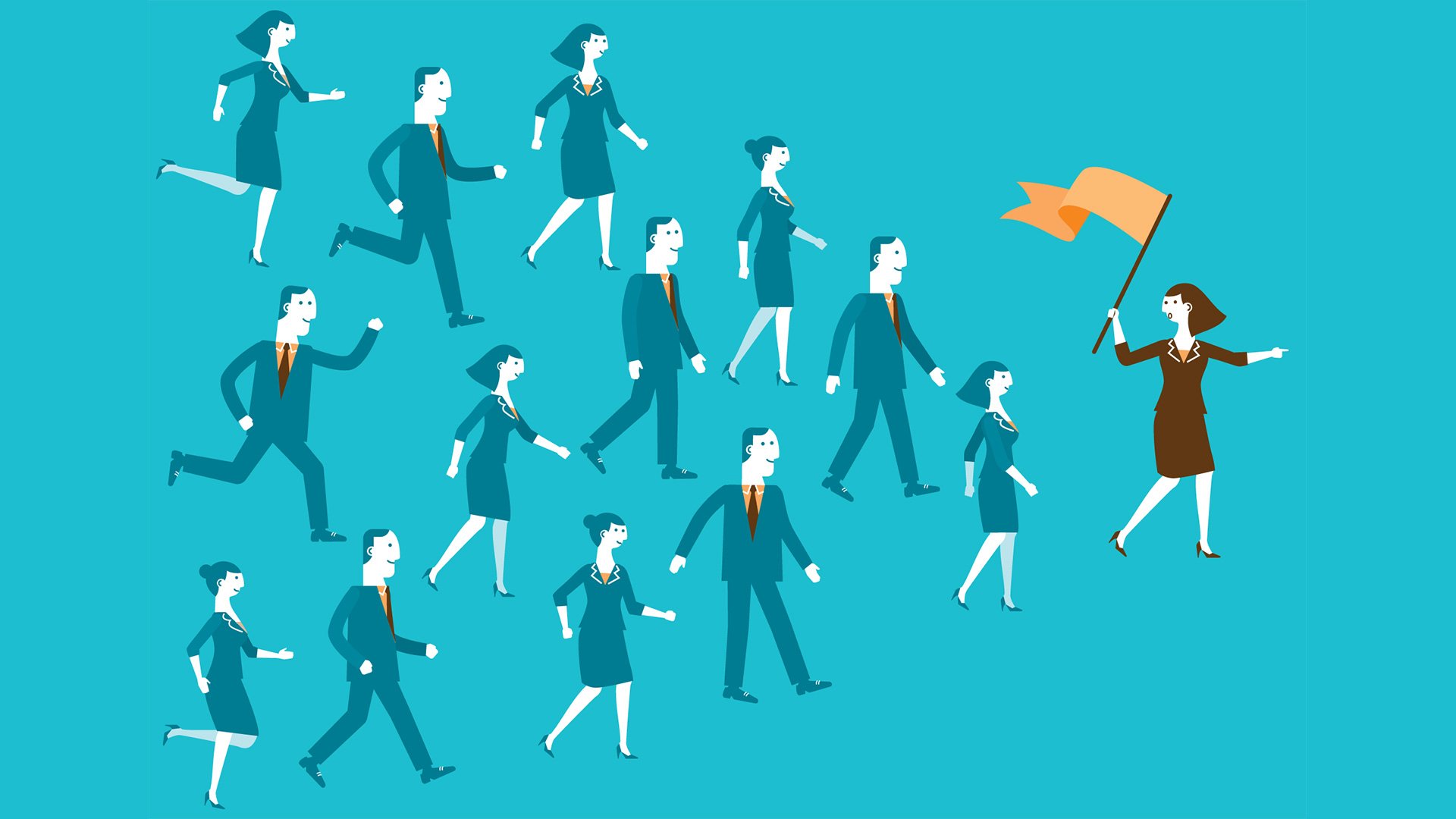 Leading by example is a crucial aspect of effective leadership. Leaders who model behavior that emphasizes integrity, creativity, good communication and a willingness to engage in continuous growth are vital to developing others. Furthermore, an effectual leader influences behavior by showing how to complete the task or delegate tasks. By directing and guiding others, influential leaders can accomplish organizational goals while demonstrating a blend of management and leadership skills. This strategy helps develop future leaders who understand succession planning and the importance of selecting the right person for the right task. In doing so, good leaders can cast light or cover followers with darkness.[1]Parker Palmer. "Leading From Within." In L. C. Spears (Ed.), Insights on Leadership. Wiley, 1996.
To that end, it is essential to understand that our conduct as leaders matters. Research reveals that leaders can influence others and radiate ethics to their subordinates to foster good leadership.[2]Jean Lipman-Blumen. The Allure of Toxic Leaders. Oxford University Press, 2005. On the other hand, a bad leader leads by abuse of power, hoards privileges, mismanages information, acts inconsistently and misplaces or betrays loyalties, leading others into darkness.
Effective communication and honesty are also key attributes of being a successful leader; this is why it is crucial to make wise choices that complement core values and inspire employees to embrace organizational goals in ways that help everyone thrive as a team. An inspiring leader can bring out the best in people and influence them, illuminating the good, which translates to "casting light." However, a leader who "covers them with darkness" brings out the worst in people. One way to bring out the worst in people is to fail to hold yourself to the same standard you subject your subordinates to; this would be failing to lead by example.
The metaphor of casting light or covering followers with darkness shows the differences between ethical and unethical leaders. Being a moral leader and leading by example fosters trust among followers. In law enforcement, trust is earned and not freely given. Leaders have the absolute power to illuminate the lives of followers or to cover them in darkness. Leaders cast light when they master the ethical challenges of leadership.[3]Craig E. Johnson. Meeting the Ethical Challenges of Leadership. Sage Publications, 2018.
Casting darkness is revealed when leaders "(1) abuse their power, (2) hoard privilege, (3) mismanage information, (4) act inconsistently, (5) misplace or betray loyalties and (6) fail to assume responsibilities."[4]Ibid.
Leading by example creates an ethically positive influence. Leaders perceived as morally positive influence productive work behavior and negatively influence counterproductive work behavior.[5]Michael E. Brown and Marie Mitchell. "Ethical and Unethical Leadership: Exploring New Avenues for Future Research." Business Ethics Quarterly, October 2010.
Ethical leaders "teach" ethical conduct to employees through their behavior, where they hold themselves to the same standard as their subordinates. According to retired Lieutenant Jim Glennon, "What drives the average cop nuttier than Aunt Sally's Christmas fruitcake is when their own bosses don't walk their ethical talk." When there is a double standard, leaders fail to lead by example, thereby destroying trust. A lack of ethics destroys trust at every level.[6]Lt. Jim Glennon (ret.). "Do Ethics Matter Anymore?" Calibre Press, July 2015. calibrepress.com/2015/07/do-ethics-matter-anymore.
Ethical leaders are relevant role models because they occupy powerful and visible positions in organizational hierarchies that allow them to capture their followers' attention.[7]Brown and Mitchell. Leaders share the right expectations through standard methods and leading by example (e.g., interpersonal conduct toward others). We all have a fundamental need to belong so we can feel proud. Employees are not proud when leaders fail to lead by example. When leaders fail to lead by example, it sows seeds of doubt, affecting people's need to belong.[8]Peter F. Drucker. The Five Most Important Questions You Will Ever Ask About Your Organization. Jossey-Bass, 2008.
In law enforcement, officers make split-second decisions. The choice an officer makes could be life-threatening, which means they will be held to a higher standard of accountability due to fiduciary responsibility. This power is given to us by the United States Constitution — specifically, the Tenth Amendment. As police officers, we cannot and should not take this power lightly or abuse it. As leaders, power is entrusted to us to enforce laws that protect the public's welfare, safety and health; this involves leading by example. Any sworn police officer (no matter what rank in an organizational hierarchy) should never advocate detestable actions committed by others, nor willfully ignore or refuse to adequately address such actions when brought to their attention. Willful ignorance is known as "plausible deniability," commonly used as an excuse to relieve the person from being held accountable or to figure out a loophole for them if they fail to act. A true leader holds others to the same standard they would use for themselves. Leading by example builds trust. However, credibility and trust are severely compromised when there is no accountability at all law enforcement levels (including chiefs, commanders, captains, lieutenants, sergeants, senior lead officers, detectives, field training officers and officers with no rank).
Positive accountability starts at the top, specifically with an organization's chief(s). If managers conceal, delay or shield the truth, how can all the other ranks be expected to do anything differently? Leaders should and must always tell the truth and have integrity! Leading by example in law enforcement is the key to an organization, agency or division's success or demise. Leading by example and holding everyone to the same standard will show consequences to all ranks. Also, ensuring everyone is held accountable shows that the same rules apply to everyone. When police officers of any rank breach their duty of being honest and loyal to the oath they were sworn to uphold, it creates distrust, division and discord. Lieutenant Glennon said it best: If an organization is experiencing unethical behavior at the line level, look up; all you have to do is listen to the news or read articles to see examples of the people at the top establishing the norm.[9]Lt. Jim Glennon (ret.). "Ethics Training: A Waste of Time." Law Officer Magazine, June/July 2014.
It is essential to always be mindful of the decisions we make as sworn police officers. People are looking to law enforcement as leaders, especially the public!
Leaders must take responsibility for their actions at all levels in law enforcement organizations. This is a positive step toward leading by example.
Leaders should not withhold the truth for the sake of their careers. Many police officers refuse to report misconduct and remain silent, especially when it involves someone with a rank above them. Why, do you ask? More than likely, sworn police officers are terrified of retaliation, being blackballed or blacklisted. Merriam Webster defines "blackball" as "to reject a candidate, vote against, exclude socially" and "blacklist" as "a list of disapproved persons or those punished or boycotted." Examples include applying for sergeant and scoring #1 on the list but not being considered for the position, or applying for another coveted position and not being considered for it (e.g., detective, training officer, community relations officer, K-9 unit, marine patrol unit, special weapons and tactics unit or any other specialized unit position).
There is a reluctance to report misconduct in many law enforcement organizations, commonly known as the "code of silence." This is an informal, unspoken, secret pact that some sworn police officers follow, forbidding them from reporting misconduct. Sometimes the existence of the code of silence is camouflaged, so it is impossible to prove. If leaders at the command level do not have the moral courage to be positive role models and report misconduct, others will not want to make a report either. Another key to leading by example is not rationalizing why you should not report misconduct; a leader should always admit the truth. To be successful at leading by example, you must abide by and embrace core values.
The easiest way to do this is to consistently practice the organization's code of ethics and these three core values: transparency, accountability and professionalism (TAP, for short). Transparency means to always be honest and open with regard to our actions, decisions and communication(s). Accountability is to adhere to one specific standard where police officers at every rank are held liable for their actions. Professionalism is to be professional, understand the importance of your job and have respect for yourself, fellow officers, the public and the organization you represent.[10]Michael DeRosia. "The Five Core Values of Public Administration." GovLoop, 2010.
Accordingly, leading by example prevents systemic, rooted misconduct and unnecessary litigation. An organization's shortcomings are a direct reflection of its leadership. All sworn police officers at every rank have to hold each other accountable. No matter who is watching, doing the right thing is the only way to change law enforcement culture and build trust within the organization and the public (the community we all serve). We must always remember to embrace our organization's code of ethics, and it should be a constant reminder to lead by example. Also, effective communication is essential. We must do better and be better! As Chris Langlois states, "the key to a successful leader is to earn respect, not because of rank or position, but because you're a leader of character!"[11]Chris Langlois. "Major Winters' Rules of Leadership." Calibre Press, June 2018. calibrepress.com/2018/06/major-winters-rules-of-leadership.
As seen in the October 2021 issue of American Police Beat magazine.
Don't miss out on another issue today! Click below:
References

| | |
| --- | --- |
| 1 | Parker Palmer. "Leading From Within." In L. C. Spears (Ed.), Insights on Leadership. Wiley, 1996. |
| 2 | Jean Lipman-Blumen. The Allure of Toxic Leaders. Oxford University Press, 2005. |
| 3 | Craig E. Johnson. Meeting the Ethical Challenges of Leadership. Sage Publications, 2018. |
| 4 | Ibid. |
| 5 | Michael E. Brown and Marie Mitchell. "Ethical and Unethical Leadership: Exploring New Avenues for Future Research." Business Ethics Quarterly, October 2010. |
| 6 | Lt. Jim Glennon (ret.). "Do Ethics Matter Anymore?" Calibre Press, July 2015. calibrepress.com/2015/07/do-ethics-matter-anymore. |
| 7 | Brown and Mitchell. |
| 8 | Peter F. Drucker. The Five Most Important Questions You Will Ever Ask About Your Organization. Jossey-Bass, 2008. |
| 9 | Lt. Jim Glennon (ret.). "Ethics Training: A Waste of Time." Law Officer Magazine, June/July 2014. |
| 10 | Michael DeRosia. "The Five Core Values of Public Administration." GovLoop, 2010. |
| 11 | Chris Langlois. "Major Winters' Rules of Leadership." Calibre Press, June 2018. calibrepress.com/2018/06/major-winters-rules-of-leadership. |