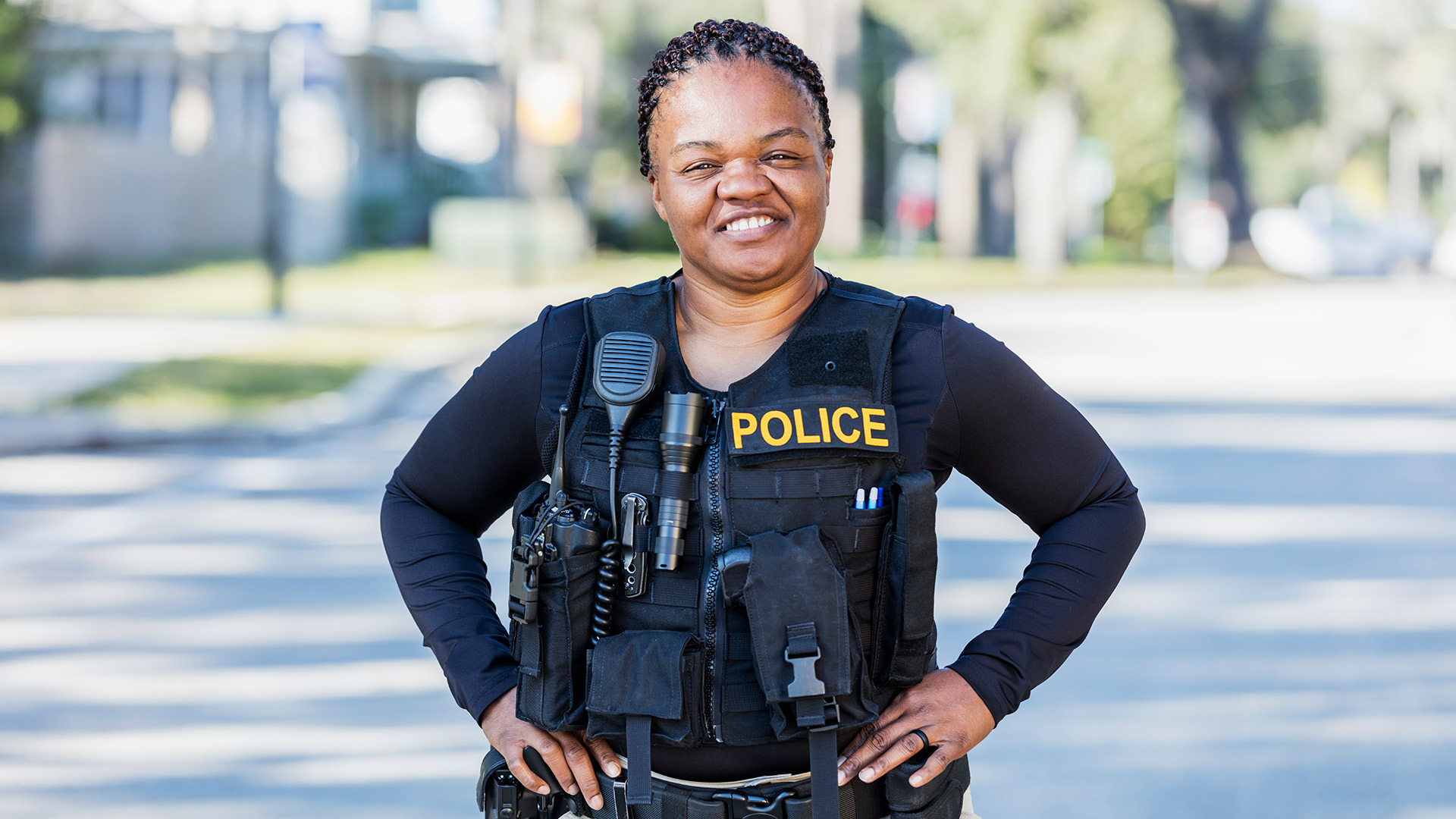 As of 2021, 60.3% of full-time civilian employees in U.S. law enforcement agencies were women, but only 13.3% of full-time law enforcement officers were women, whereas 86.7% of officers were male, and fewer than 3% of police chiefs were female.[1]Duffin, Erin. "Gender Distribution of Full-Time U.S. Law Enforcement Employees 2021." Statista. October 11, 2022. tinyurl.com/3466jaun. Louisiana boasts the highest proportion of women officers, at just over 22%, while West Virginia reports the lowest at 3.3%.[2]Ford, Andrew. "Can American Police Close the Gender Gap?" The Crime Report. August 6, 2019. tinyurl.com/y8swb632. Statistics like these are cautionary warnings for leaders in law enforcement, especially for those who understand that local police should mirror the populations in which they serve.[3]Ramsay, Amy. "Diversity in Policing: An Educational Assessment." The Blue Line. July 7, 2021. tinyurl.com/2tejsn6m. Margo Frasier, police monitor for Austin, Texas, observed, "We make better decisions when those who are making the decisions for the community look like the community."[4]Wedell, Angelica. "Women in Law Enforcement." Polco — National Research Center. August 21, 2017. tinyurl.com/2p8wcfm7.
Deborah Friedl, a 30-year veteran with the Lowell, Massachusetts, Police Department, and the first woman to serve as the department's deputy superintendent, expressed frustration that women have gotten almost no attention in policing. Deputy Superintendent Friedl, who is also vice president of the International Association of Women Police, describes how discouraged she feels at this late stage of her career: "There's no energy about doing anything to recruit women or show any effort to do your best to recruit women."[5]Asquith, Christina. "Why Aren't U.S. Police Departments Recruiting More Women?"
The Atlantic. August 30, 2016. tinyurl.com/2exzr446.
Although decades of research have established the benefits of increasing women's representation in policing,[6]"Advancing Women in Policing: 30% Women Recruits By 2030." 30×30 Initiative. February 13, 2023. 30x30initiative.org. according to a report from the National Center for Women and Policing (NCWP), the numbers of women in law enforcement are kept artificially low purposefully through widespread discriminatory hiring practices.[7]"Changing the Face of Policing." National Center for Women & Policing. February 13, 2023. womenandpolicing.com. The NCWP has been promoting plentiful and convincing research that clearly indicates that the surest pathway toward lowering the rates of violence against women — including sexual assault, rape and murder — is to recruit more female officers.[8]Asquith, "Departments Recruiting More Women" Those are not the only benefits to be gained by increasing the number of women in the nation's police agencies.
As reported by the NCWP, over 20 years of extensive research strongly indicates that women police officers generally employ a quality of policing based on far less physical force than traditionally used by their male counterparts, and they also rely much more on communication skills, which are known to be more effective in defusing potentially violent situations. Reports also indicate that female officers are far less likely to perpetuate incidents of police brutality. Assistant Police Chief Crystal Young-Haskins of the Little Rock, Arkansas, Police Department explains, "We hear the public when they criticize us about excessive force. There's research out there that says that women are better de-escalators. They don't resort to force first, they communicate first, and then uses of force become a last resort."[9]Goldsmith, Marlisa. "More Police Departments Are Hiring Women, Here's Why." THV11 KTHV. February 15, 2022. tinyurl.com/mwkms2ps.
Female officers also tend to be considerably more effective when responding to situations involving violence against women, which compose the largest category of calls to police agencies across the U.S.[10]Spillar, Katherine. "How More Female Police Officers Would Help Stop Police Brutality." The Washington Post. July 2, 2015. tinyurl.com/yc7r9xu7. This is further underscored by crime-victimization data indicating that as female police presence increases in any given area, reports of crimes against women, particularly domestic violence, come in at significantly higher rates,[11]Asquith, "Departments Recruiting More Women" which means that those victims have a better chance of putting a stop to the abuse as compared to situations that go unreported.
Austin Police Monitor Margo Frasier's observation that those who are making the decisions for a community should look like that community, strongly suggests that police leadership across the U.S. should seriously overhaul recruitment and retention practices insofar as women are concerned. For one example, specifications for strength testing are almost universally based upon male physical characteristics, where upper body strength is an advantage. In states like New Jersey, female recruits and sworn officers fail these tests at three times the rate of males. However, if such testing were readjusted to account for lower body strength, female officers would not be at such an unfair disadvantage.[12]Ford, "Police Close Gender Gap"
The old-fashioned, authoritarian style of top-down management is typical in many, if not most, of America's 18,000 police departments, along with the quasi-military tradition of "don't question orders," which generally trickles down to reinforce authoritarian policing styles, where law enforcement takes charge of any given engagement without much room for civilian input. This management style is not amenable to the gentler, more humanistic approach generally exhibited by female officers, who have a proven track record of being able to defuse tense situations with a more cooperative, communicative approach. [13]Ibid.
One of the most forward-looking proposals to show up recently is the 30×30 Initiative, a national movement promoting the notion of having 30% of America's sworn police officers be women by the year 2030. This initiative is composed of a coalition of police leaders, researchers and professional organizations who have joined together to advance the representation and experiences of women in all ranks of policing across the U.S., built upon decades of research that shows the unique benefits women officers bring to policing agencies, such as those already discussed here, and more. 30×30 has garnered active support from over 300 police agencies nationwide and is also promoted by the U.S. Department of Justice.[14]30×30 Initiative[15]Goldsmith, "Departments Are Hiring Women"
Just a few examples have been presented here that point to some of the positive long-term effects likely to result from recruiting and hiring more women as law enforcement officers, in addition to some of the changes required to improve female representation and effectiveness in America's police departments. Heading into the future, it is the leadership of this nation's police agencies who will need to take on the necessary commitment to advance the training and hiring of capable women, vital assets who have been overlooked and underused for far too long.
As seen in the March 2023 issue of American Police Beat magazine.
Don't miss out on another issue today! Click below:
References

1
Duffin, Erin. "Gender Distribution of Full-Time U.S. Law Enforcement Employees 2021." Statista. October 11, 2022. tinyurl.com/3466jaun.

2
Ford, Andrew. "Can American Police Close the Gender Gap?" The Crime Report. August 6, 2019. tinyurl.com/y8swb632.

3
Ramsay, Amy. "Diversity in Policing: An Educational Assessment." The Blue Line. July 7, 2021. tinyurl.com/2tejsn6m.

4
Wedell, Angelica. "Women in Law Enforcement." Polco — National Research Center. August 21, 2017. tinyurl.com/2p8wcfm7.

5
Asquith, Christina. "Why Aren't U.S. Police Departments Recruiting More Women?"
The Atlantic. August 30, 2016. tinyurl.com/2exzr446.

6
"Advancing Women in Policing: 30% Women Recruits By 2030." 30×30 Initiative. February 13, 2023. 30x30initiative.org.

7
"Changing the Face of Policing." National Center for Women & Policing. February 13, 2023. womenandpolicing.com.

8,

11
Asquith, "Departments Recruiting More Women"

9
Goldsmith, Marlisa. "More Police Departments Are Hiring Women, Here's Why." THV11 KTHV. February 15, 2022. tinyurl.com/mwkms2ps.

10
Spillar, Katherine. "How More Female Police Officers Would Help Stop Police Brutality." The Washington Post. July 2, 2015. tinyurl.com/yc7r9xu7.

12
Ford, "Police Close Gender Gap"

13
Ibid.

14
30×30 Initiative

15
Goldsmith, "Departments Are Hiring Women"