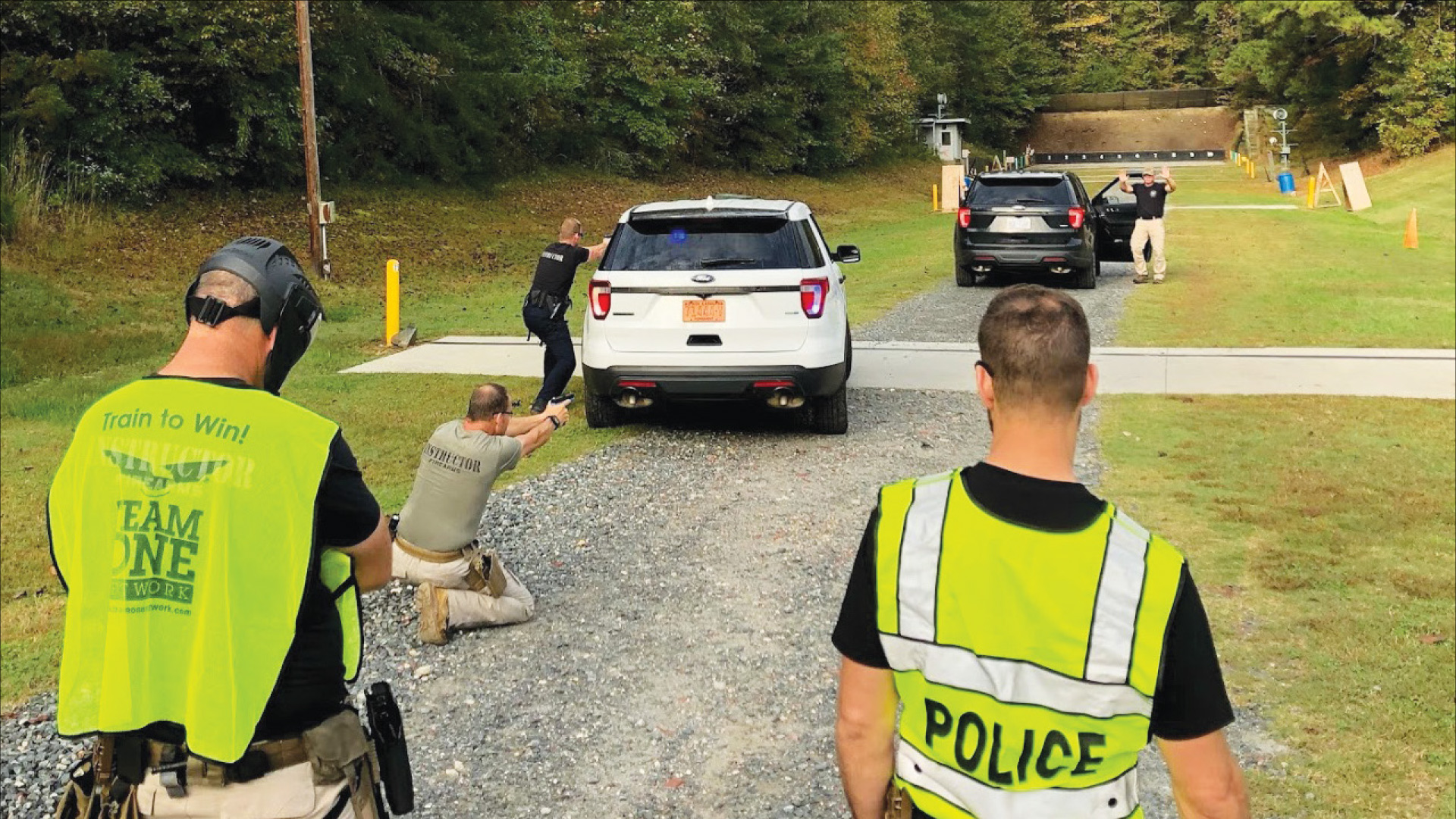 There has been a disturbing trend in law enforcement firearms training: Many departments are spending more time and resources on scenario-based training and less time on the range. Whether you call it scenario-based or reality-based, this type of training has merit and a place in our training programs. However, it is not firearms training and should not be considered a replacement for live-fire drills.
Before I get too deep in the weeds here, don't believe for a minute that I'm not a fan of reality-based scenario training; I'm a huge proponent. As a matter of fact, while running the training division of my agency, I made it mandatory on a quarterly basis, so don't get all bent out of shape thinking I'm down on this type of training. However, a guy who later took over that position reduced live-fire range training to the point where a newly hired officer was "qualified" using marking rounds in the police department garage instead of going to the range. Idiotic? You bet. But don't believe for a second that it couldn't happen at your department, too.
Reality-based scenarios are primarily decision-making exercises to assess threats, determine appropriate tactics and apply a reasonable amount of force. This is important stuff. However, skill development is done on the live-fire range, where quality training allows officers to work on their firearms skills. Firearms training puts officers in a structured training environment where they can perform multiple repetitions to improve a skill. Drawing from the holster, reloading, working through malfunctions, target transitions, multiple shots, changing speeds and other skills are best built on the live-fire range. Reality-based scenarios can supplement live-fire range training, but they cannot replace it.
Reality-based training
Scenario-based training without instruction and repetition is a test of skills. Just like qualification, reality-based training is a test where the instructors run the scenario but do not focus on teaching or coaching. If instructors aren't teaching before and during the scenario, it is not training. The only time allotted to "train" in these dynamic scenarios is the debriefing following the exercise. By then, the training opportunity has mostly disappeared. Telling someone what they did wrong may be enlightening, but it is not training. And while those who respond well to verbal instruction may glean helpful information from the debriefing, most officers won't learn much.
Taking this a step further, if instructors are not providing training, they should be considered proctors or evaluators. There is a time and place for this type of testing, but don't fool yourself into thinking officers are receiving significant training value.
The use of reality-based scenarios should be viewed as a test of skills or a final exam. It is an opportunity to demonstrate a variety of skills, under stress, within compressed time frames, in a safe and controlled environment. A well-designed scenario can incorporate more than just the use of firearms in a shoot/no-shoot situation. It can include less-lethal options, officer down drills, buddy and self-rescue, team movement, triage, realistic radio traffic to dispatch and responding officers … the list goes on and on. But without repetition and timely instruction, this is not training. Each of the skills to be incorporated in a scenario should be trained in detail before being performed in a quasi-realistic situation. We would never ask our officers to perform a simulated swift water rescue without providing training on the skills needed to make the rescue attempt. So, why are we so willing to give up time spent on the range, mastering the fundamentals of marksmanship and weapon handling?
Live-fire range training
It is impractical to demonstrate and repeat reality-based scenarios. This is why well-designed drills on the range are so important. Range drills allow instructors to observe each shooter's performance, and the repetition provides an opportunity for the instructor to provide coaching to help the shooter master that skill.
Repetition gives students the ability to learn skills. Skills must be taught, understood, learned, practiced and mastered to the point of "unconscious competence." This is what many consider "autopilot." It's actually called automaticity, which is defined as the ability to do something without occupying the mind with low-level details. When officers are in a fight to save their lives or the lives of others, they shouldn't think about how individual skills are performed. They need to focus on the fight and what is required to prevail. Physical shooting skills must be performed without conscious thought.
The live-fire range is the place to focus on the officer's ability to put rounds on target consistently, within restricted time constraints. The training environment is the safest place to fail. By allowing officers to fail in a controlled environment with the opportunity to repeat a drill until they become proficient, instructors are providing training. The pressure of the test is off, and skill acquisition is the goal. If we do not push ourselves to the point of failure, we never know our true abilities. By pushing our limits past our current abilities, we provide an opportunity for improvement.
When officers are proficient in the skills to be tested, then scenarios should be used to test those skills. If officers are not equipped with the skills they need, they are being set up for failure. The debriefing will tell them what they did right and what they did wrong, but without repetition, there is no way to measure the effectiveness of training or the improvement of skills.
Why is this happening?
There could be several causes for the current trend of replacing range time with scenarios. Many trainers do not understand the learning process and don't know what they don't know. They are falling victim to their training deficiencies, and the cycle continues. They may be excited to use all the "cool gadgets" involved in reality-based training but lack the understanding of how to properly utilize these tools.
In addition, the people in charge of budgeting, scheduling and designing training programs may not understand how they are failing their officers by making the switch from firearms training to scenarios. Many view it as killing two birds with one stone, and when they are being asked to do more with less, they see this as a good compromise. But it is not a compromise; it is a tradeoff. Incorporating scenarios will add diversity and strengthen a training program, but it should never replace time spent training skills imperative to surviving the job. Besides, not every scenario should end with a force response.
We need to push our training programs to be progressive and stay relevant. While attempting to do this, too many departments are falling prey to trendy training without evaluating their program using a critical eye. While reality-based training and the use of scenarios has a lot to offer, it is testing. It should never replace valuable time spent on the range, teaching and coaching officers on the fundamentals of marksmanship and how to place rounds on target under time duress.
As seen in the March 2021 issue of American Police Beat magazine.
Don't miss out on another issue today! Click below: