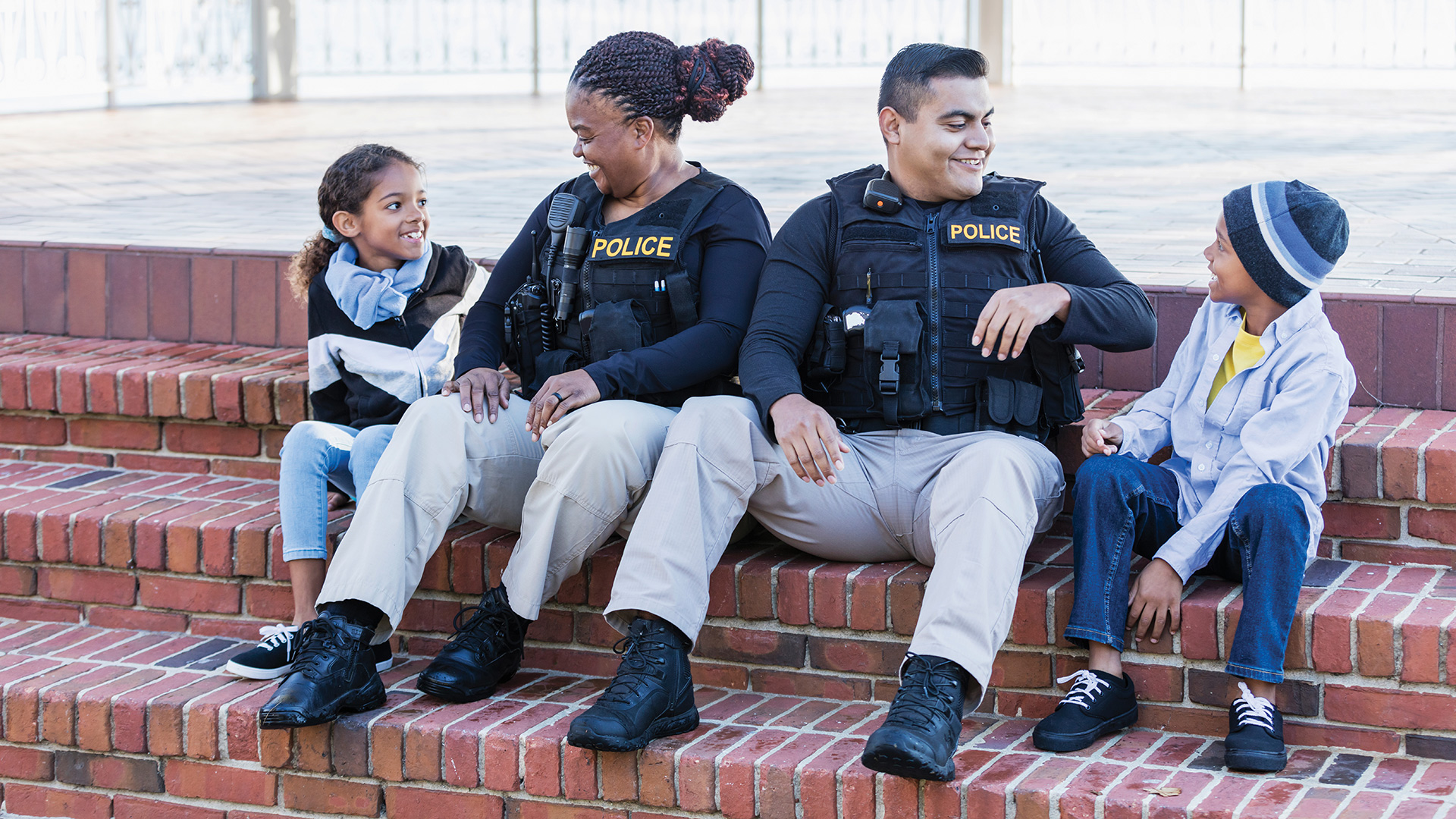 Community policing is not dead. Community-oriented policing and problem solving (COPPS) can be alive and well, but needs a reboot to be successful in today's environment. It requires a commitment at the management level, guidance and direction by supervisors and community engagement by line staff. Without a clear plan of engagement, we merely have a philosophy instead of strategies.
COPPS burst onto the scene in the 1980s as a new philosophy of partnering with citizens to identify and target root causes of crime. COPPS is unique in that it is not a one-size-fits-all program. It is not just sharing crime prevention brochures, doing security surveys or having citizen police academies, open houses, hot spot policing, school resource officers, bike patrols or a litany of other strategies or programs. It is about community engagement.
With COPPS, the police must work with the community and draw from other resources to identify, prevent and solve crime problems. Because community policing is difficult to define, it has also been difficult to evaluate. However, the COPPS philosophy is one to which most police departments in the United States say they adhere to.
While agencies say they embrace COPPS, the standard policing model continues to involve enforcing the law in a broad and reactive way. We use more officers, unfocused random patrols, rapid response to calls, follow-up investigations and reactive arrest policies. Research shows this method to have limited success.
With over 18,000 local law enforcement agencies, the needs of stakeholders are different across the nation. Crime challenges vary, police leadership varies greatly, resources are different and the menu of community engagement must be consistent with clear rules of engagement for each agency. Large metropolitan agencies are at a disadvantage to be successful with COPPS because there is a greater potential for a disconnect between citizens and the stereotypical "beat cop" who rarely exists today.
COPPS is often nestled away in suburbs and rural police agencies. This is where community policing lives. Policing is most successful with officers breathing life into the community by helping and caring for neighbors, friends and families. Community policing is alive where officers have an invested interest. Research from George Washington University's Institute for Humane Studies confirms the struggle that larger agencies can have in embracing COPPS successfully.
What is COPPS?
COPPS requires four components: (1) agency management; (2) organizational structure, (3) personnel; and (4) information systems.[1]Kringen, A., Jonathan, A. (2017). Police Foundation. Ideas in American Policing. Outside the Academy: Learning Community Policing Through Community Engagement. pp.1. A lack of vision, resources and expertise impact agencies from truly embracing COPPS.
Agency visioning and strategic planning include strong mission and vision statements that produce community partnerships, annual reports and strategic plan report cards. Embracing COPPS is to build a foundation with a clear mission and vision, which must include in-service training. Parsons, Kansas, P.D. uses a presentation and
workbook to set the tone with new hires and to refresh the expectations of COPPS during annual in-service training.
Strategies can include residential and commercial security surveys, speaker's bureau, community meetings, utilization of social media (Facebook, Twitter, Nextdoor, etc.), expansion of agency websites, podcasts, press releases, hot spot policing, community disorder projects, community surveys and use of problem-solving tools to root out crime. The list of strategies can be long.
A commonly used police problem-solving method is the SARA model (scanning, analysis, response and assessment). SARA can identify and target policing responses. This strategy can meld COPPS with effective field strategies to deal with specific crime problems.
Why adopt COPPS?
Historically, there are four compelling reasons to embrace COPPS programs, which include: preventing crime, improving police/community relations, reducing the fear of crime and developing political support.
A major focus in 2021 will be an increase in systems that enhance organizational accountability, with the goal of maintaining public trust with their police agency(s). The time is ripe to reboot COPPS in our communities to counter pushes to defund the police or to legislate policing change without any input by the police.
Instead of discussions about defunding the police, law enforcement must lead a charge for adequate funding for all community services. Balancing the warrior mentality with the root philosophy of Sir Robert Peel's 1829 policing guidelines of being a guardian who partners with the community for policing and safety is on target today.
Historically, many jurisdictions are strained merely handling reactive policing responses to
reported crime. From the inception of COPPS 40 years ago, research indicated that policing resources and staff needed to grow 30% to provide uncommitted patrol time to conduct community engagement. Yet, calling the police for a host of social service, mental crisis, narcotics addiction and out-of-control youngsters has grown to eat more resources.
Challenges
COPPS requires a shift in a department's orientation, emphasis, community relations, geographical organization, power base, recruitment and training. This means creating a policing style that reflects the needs of our citizens. The following characteristics are essential for the success of any COPPS effort:
Clear mission, vision and guiding principles
Community consultation
A proactive approach to policing
A problem-oriented strategy
Crime prevention activities
Interagency cooperation
Reduction of the fear of victimization
Development of officers as generalists
Decentralized police management with community accountability
Development of flatter organizational structures and accountability to the community
People tend to make COPPS more difficult than it needs to be. A baseline is the need for line staff to learn about people in their community.
The impact of the COVID-19 pandemic affecting jobs, travel, financial security and a national outcry on police use of force, policing the police and social media that amplifies policing failures makes policing challenging. Also, in a recent survey, 81% believed that the use of racial profiling by the police is widespread.[2]Dolan, H. (2021). Community Policing: Winning Back Your Community. Dolan Consulting. pp. 49. Then add a rise in assaults on officers, metropolitan unrest and a nation failing to address issues of race, and it is time to reboot COPPS. The culmination of these factors has created a perfect storm for law enforcement.
Policing has not been proactive in its evolution. Change has come through case law, lawsuits, changes in the law and budget impacts. The divide between union states and right-to-work states is also a struggle. The union environment engages funding, training and agency evolution. Police agencies in right-to-work states often lack the resources and support needed for change. Without that additional pressure, what is the motivation to evolve policing?
Mission and vision statements that management lives by are more than an educational exercise. COPPS must trace its philosophy from chiefs and sheriffs to policies through training and molding programming and outreach to address a jurisdiction's unique challenges.
Crime prevention programming across the country ranges from essentially zero local resources to active outreach units. Nationwide, hardly more than a dozen states even have a crime prevention association or provide basic training in COPPS to police officers beyond the basic academy.
COPPS has research-validated success with citizen satisfaction, perceptions of disorder being reduced and police legitimacy being restored. In general, COPPS improves the trust of the police by the public.
Alternative options for agencies and patrol
Some say that few American police agencies have ever had true community-based policing, even though 81% of agencies have reported that they are engaged in COPPS. Many of these same agencies could not identify strategies that had been implemented to grow COPPS.
For example, what strategies are in place to manage non-emergency mental health calls, analyze trends in use-of-force incidents, further explore non-lethal use-of-force options and technologies, expand body-worn and in-vehicle video, streamline public-complaint processing and intake for digital media crime tips.
Retired Chief Harry Dolan (Grand Rapids, Michigan, and Raleigh, North Carolina) writes about the value of the out-of-car experience. "These strategies involve officers getting out of their patrol cars and actively engaging the community in a way that builds relationships that lead to intelligence-gathering and crime prevention and prosecution. Including citizens in the processes of alerting the police about crime and identifying criminals is designed to lead to the successful prevention and prosecution of criminals preying upon communities."
Evidence supports that when officers get out of their patrol cars and intentionally get to know citizens, we see a reduced fear of crime and increased satisfaction with the police. This is part of the COPPS philosophy.
It has long been proven that a community cannot arrest itself out of crime. Traditional enforcement is and will continue to be a backbone to identify and remove offenders from the streets. However, does every shoplifter or low-level, non-violent misdemeanor need a citation, arrest or incarceration? In a time of litigation, enforcement provides the nominal level for liability reduction. However, embracing COPPS may also open alternatives, with documentation that can offer justice and accountability while building bridges.
As seen in the June 2021 issue of American Police Beat magazine.
Don't miss out on another issue today! Click below: