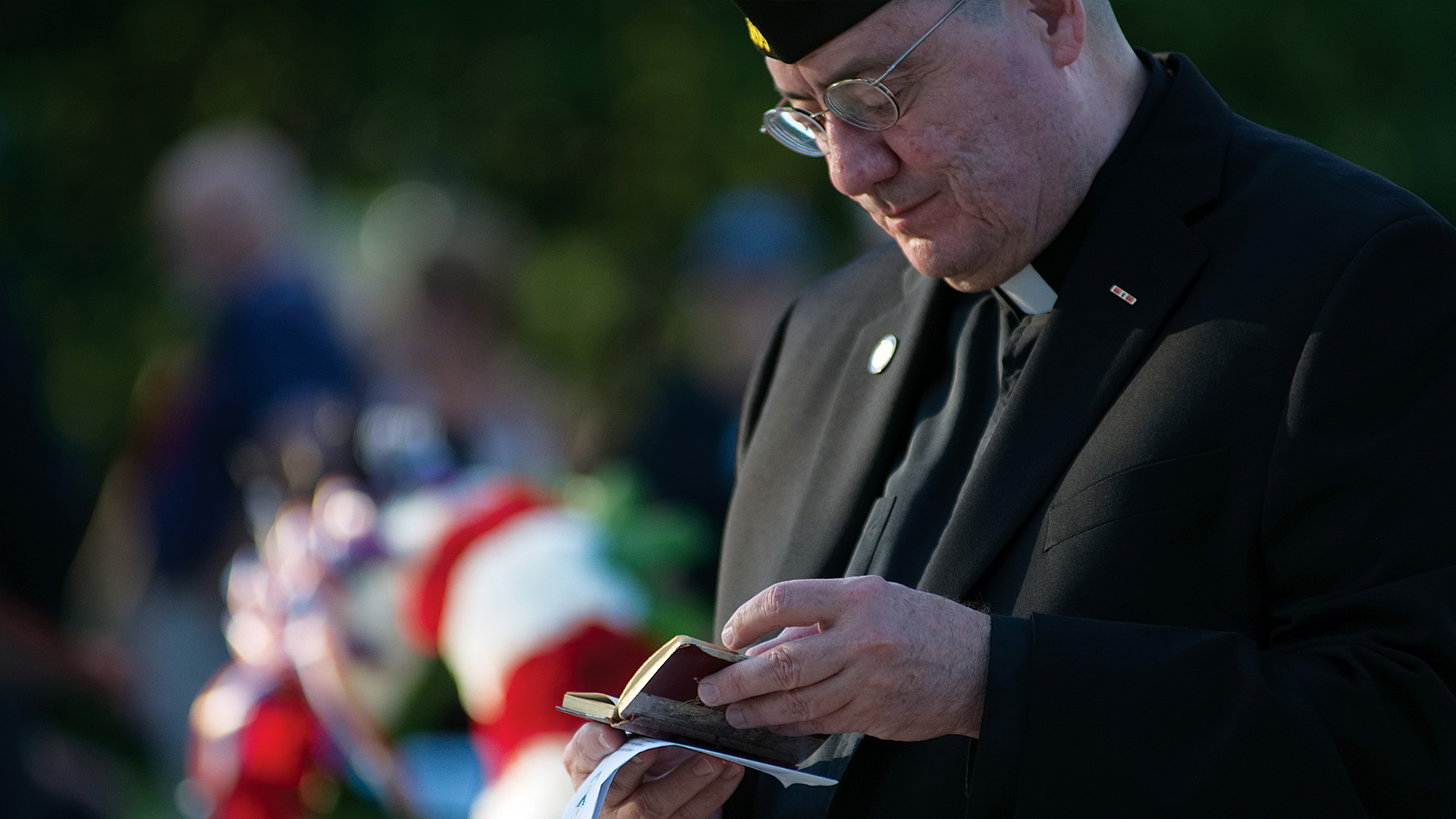 The services provided by chaplains are an essential component of peer support and wellness for law enforcement agencies. Chaplains are uniquely qualified to use their extensive experiences in counseling, assistance, compassionate helpfulness, understanding, emotional comfort and spiritual support.
Chaplains serve in meaningful ways of support that offer an alternative to peer support officers or professional psychologists — and in that capacity, they can bring an essential perspective to helping officers cope with, recover and heal from traumas.
Who are chaplains?
Chaplains have served in law enforcement for decades. They are professional and experienced clergy who serve the agency as volunteers and have the capacity to become integrated into the police culture. They provide nondenominational mental, emotional and spiritual support to officers and dispatchers and their families, and to victims of crimes and tragedies in the community.
They are strictly forbidden from promoting any specific religious doctrine, but offer ecumenical support and counseling whenever needed. If an officer wants to discuss spiritual matters, the chaplain is there to listen and offer their opinion if asked. Basically, a good and effective chaplain meets the officer/dispatcher where they are and is there solely for the officer/dispatcher's expressed needs. In a sense, it's a ministry of support and presence, not of doctrine or persuasion.
As professional clergy, chaplains have a wealth of experience in dealing with other people's problems, life issues, traumas and tragedies. They have often supported people dealing with great loss, emotional distress and inner turmoil. Their unique background and experiences offer a different and often much-needed perspective for officers.
Chaplains understand the absolute need for confidentiality. Any conversation with a chaplain is legally protected, just as if they were a mental health professional.
How do chaplains serve?
For a chaplain to be effective, they must become trusted and accepted within the police culture. They should serve a specified number of hours per week and make themselves known throughout the agency — consistently going on ride-alongs, speaking with dispatchers, participating in agency functions and reaching out to check on those who may need support and assistance.
They should visit or call injured or sick officers/dispatchers, participate in critical incident stress management debriefings, and perform funeral services as well as invocations and benedictions at agency functions. They help with death notifications and offer immediate support and assistance to victims and relatives of victims of violent crimes, accidents, suicides or other tragedies. Chaplains empathetically enter into the crisis, trauma or suffering that officers or others are experiencing.
Additionally, chaplains are driven by their hearts to want to help and serve the officers. They must be willing to do whatever is asked of them, and they typically do what is asked without reservation and with a willingness to do even more.
Choosing the most effective chaplain
In my experience, most clergy would not make good chaplains. They must naturally fit in for them to be useful and trusted. Those who do make a good fit tend to offer exceptional service.
There should be an in-depth screening process to find the best chaplain for your agency. The most effective chaplains clearly understand their role of nonjudgmental, universal helpfulness and service to the officers and agency.
They should have at least five years of professional clergy experience and have acquired specific training for chaplaincy, such as through the International Conference of Police Chaplains (icpc4cops.org), the National Center for Chaplain Development (nccdat.org) or the International Critical Incident Stress Foundation (icisf.org). Outward support for the chaplain from the agency's administration and supervisors is most important.
If your agency does not have a chaplain, find one. Look at the International Association of Chiefs of Police standards (theiacp.org/working-group/section/police-chaplain-section) to guide you. The chaplain in my agency has done more for our officers and dispatchers than I could have ever imagined.
One chaplain's advice
The Reverend Chuck Price has served as a police chaplain with the San Diego Police Department for over 20 years. His advice to officers is to make the effort to get to know your agency's chaplains, talk with them and engage them — open up to them and give them a chance. Listen to why they want to serve and what they offer in way of support, compassionate listening, understanding and helpfulness.
His advice to chaplains: "Be yourself. Let officers get to know you. Far more importantly, ask unintrusive questions so you can get to know them. Be interested not only in how they do their job but also in who they are outside of work. Don't try to be a cop or act like you know what you clearly don't know about their job. Be an active listener and learner — always. Get to know their culture and find your place in it.
"Love, care for, and support them right where they are. Do not ever try to change them. Never make the passenger seat your bully pulpit to correct someone's language, fix what you think might be broken, or question the way they do their job.
"Have a sense of humor. Don't take things personally and don't get offended. Explain what your role is as a chaplain and why you're there — to support and care for them as they may need. Remember the potential good you can do and that you are needed. I have witnessed many times our efforts assisting in healing, restoring peace, saving careers and marriages, and even saving lives."
Conclusion
As executives and managers, we need to provide as many supportive wellness resources for our officers and dispatchers as is possible to give them a fighting chance at this profession. Chaplains offer a unique and highly needed perspective that can provide essential help to those who serve.
As seen in the June 2022 issue of American Police Beat magazine.
Don't miss out on another issue today! Click below: